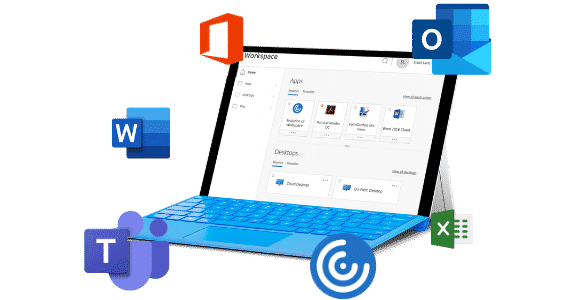 My VirtualWorkspace
Empower your workforce with anytime, any device secure access via My VirtualWorkspace.
Request a Consultation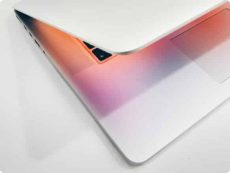 Anywhere, Any Device Access
My VirtualWorkspace enables any size business to deliver cloud-hosted virtual desktops and apps to any device, from
anywhere, securely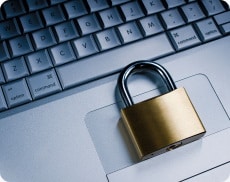 Enterprise Class Security
Your end users are at the heart of your security framework. Empower them to do their best work with a secure digital perimeter that follows them wherever they work — regardless of how they access data.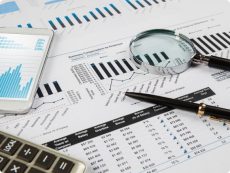 Predictable Billing; Per User, Per Month
As an on-demand solution, My VirtualWorkspace has a pay-as-you-go, consumption-based pricing model, allowing SMBs to exert much more control over their computing costs.
Overview
Work is no longer a place. It's an increasingly dynamic activity. That's why My VirtualWorkspace, a modern workspace from Enterprise Solutions, is adaptable, offering employees freedom and security. Whether work happens on-site, on the road, or in the cloud, My VirtualWorkspace gives you confidence without compromise.
My VirtualWorkspace is a workspace-as-a-service offering. Taking a more holistic approach, it can deliver data and applications to employees whether they are sitting at a desktop or out on-site with a tablet or smartphone.
My VirtualWorkspace encompasses backup, the cloud, VPN access, security policies, endpoint protection, files and data, applications —everything in a typical workplace environment—and connects them to any device, anywhere.
My VirtualWorkspace takes these aspects, packages them together, and delivers them as one product. It enables the creation of an entire enterprise-class secure hosted workspace environment that end users can access from any location and any device with an internet connection.
Secure Remote Access
Your team can have 'anywhere access' to a Windows Desktop, complete with MS Office, Exchange email as well as your business' data.
Security and Compliance Delivered
Users work from all sorts of venues. They need secure access to resources regardless of location. My VirtualWorkspace ensures top-tier security across all data, devices, and access.
Scale To Your Needs
My VirtualWorkspace environments can be stood up and turned off quickly. This ability to "right-size" access to data and applications is ideal for businesses that employ contractors or have seasonal spikes in employees.
Cost Savings
No upfront IT investment, staff costs or maintenance charges with a monthly, predictable, per-user fee.
Infrastructure Replaced
Run virtually from the cloud, there are no servers, VPN nor back-end infrastructure required.
Backup and Disaster Recovery Inclusive
Fire, flood, or global pandemic - you're protected and can resume
working instantly with no lost data.
More Productivity
My VirtualWorkspace enables any size firm to deliver cloud hosted virtual desktops and apps to any device, from anywhere, securely.
A Modern, Digital Workspace
What is My VirtualWorkspace?
My VirtualWorkspace is a DaaS (desktop-as-a-Service) offering, running the latest operating system software and office productivity applications (including Microsoft Teams). This virtual desktop is securely accessible from any internet-connected location and from any device type (e.g. PC, laptop, thin client, smart device).
Your team can have anywhere access to a Windows Desktop complete with email, applications, and business data. No matter what device or where in the world users are accessing from, their experience is the same. Coupling this desktop with best-in-business collaboration tools keeps your users constantly connected and productive, regardless of location.
My VirtualWorkspace combines a managed service contract to ensure enterprise-class security and reliability. We protect you and your business 24/7 with the very latest in IT security. If your device is lost, stolen, or damaged, your company data stays safe.
Request a Demo
See how My VirtualWorkspace can support your business by requesting a demo with our expert team.
My VirtualWorkspace
Who is My VirtualWorkspace for?
A transition from a traditional desktop to a modern workspace environment is a relevant change for any business that is looking to become more agile or secure. By choosing the right partner, you can gain a competitive edge in your market space.
From our experience, businesses ranging in sizes from 25 – 200 reap the cost-savings from My VirtualWorkspace.
Businesses with a high turnover of users have multiple office locations or ones that require strict security regulations, need a secure cloud workspace to work from.
Typically consulting industries like finance, legal, and construction are the ones that benefit from migrating to the cloud the most. This is usually down to the scaling ability, remote working capabilities, and the exceptional security systems put in place.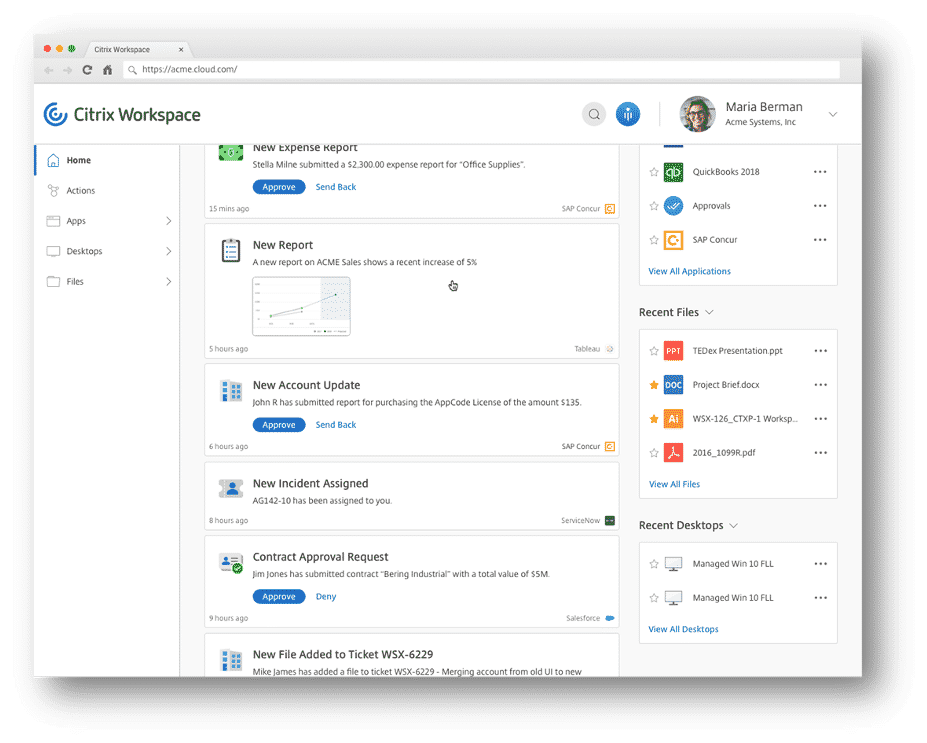 Key Points
Deliver your SaaS apps, files, and data to users via a virtual desktop solution and Citrix Workspace App
Hosted on Azure, My VirtualWorkspace is a cloud-first solution with data backup and recovery built-in so your data is never stored on a single device.
Single-Sign-On to Office365 allows users log in once and access services without re-entering authentication factors.
The latest in security protocols including encrypted connection traffic, antivirus anti-malware and web-filtering.
24×7 x 365 fully Managed Service with automated monitoring, alerting and reporting included.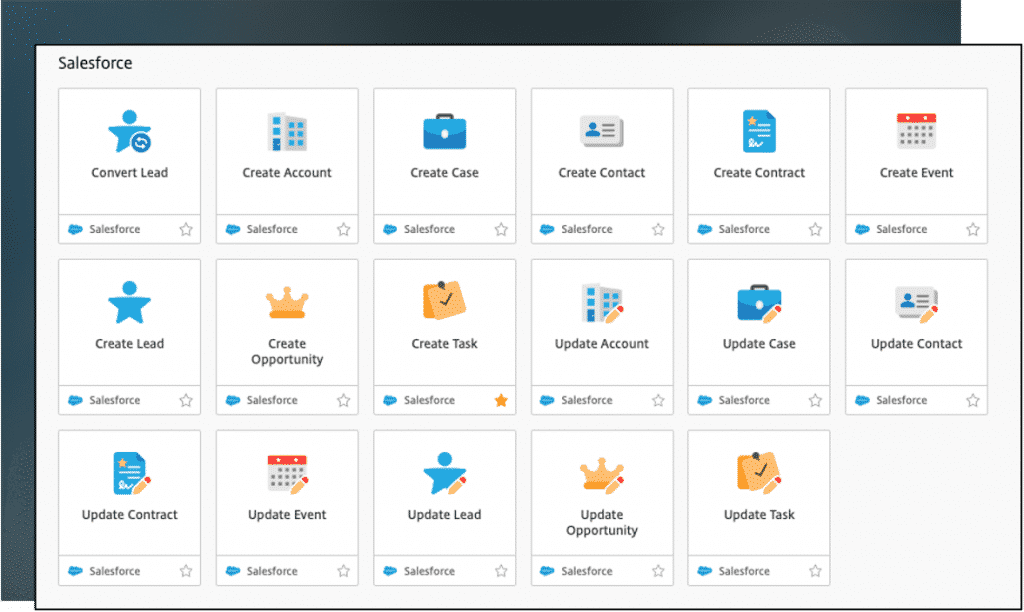 Why choose us
Access to your desktop, applications, emails, and files are the technology lifeblood of your business. With over 24 years of experience delivering virtual workspace environments, you can trust Enterprise Solutions to remember this. We have the experience and understanding required to deliver enterprise-class productivity, access, security, and reliability. Your IT remains fresh and evergreen as it will be managed by Enterprise Solutions, Microsoft & Citrix forevermore.

20+ Years Experience
Our popular My VirtualWorkspace environment is a fully-managed virtual workspace solution incorporating a virtual desktop solution, which we've now successfully offered for over ten years.

Citrix and Microsoft Partnerships
Leveraging our Citrix Platinum Partnership as well as being a Microsoft Gold Partner ensures My VirtualWorkspace is built on the best technology available by our expert in-house team.

Supported by an Expert Team
With My VirtualWorkspace, you will find that systems are continuously maintained and updated to ensure they are running at an optimum level at all times, giving your users a great experience regardless of location.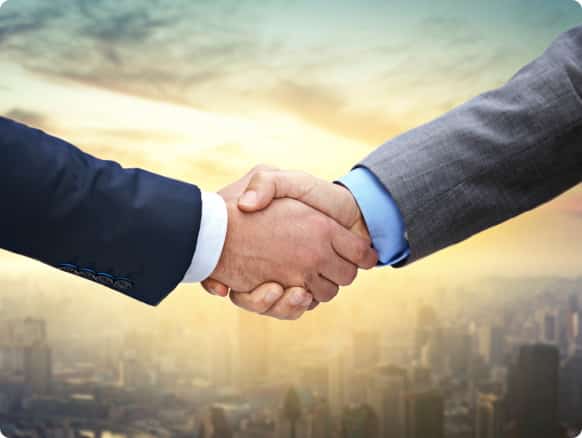 Want more information
Contact our team today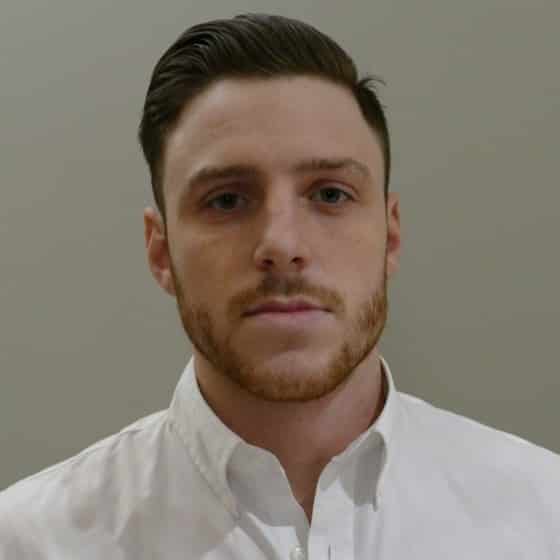 Harry
Digital Workspace Consultant
Harry is a well versed Digital Workspace Consultant supporting businesses of all sizes on their transformation journey to enabling a modern workspace.
harry.caslin@enterprise-solutions.com
We'd love to hear from you