Citrix new strategy and product innovations
Recently, Cloud Software Group have announced a new Citrix strategy and product innovations to help simplify and improve end user experience for their customers.
Over the past few months, you may have heard about some significant changes at Citrix. Most notably, Citrix Systems going private in 2022 and became a business unit of Cloud Software Group. Citrix going private means many positive, tangible changes are coming to its customers. With this, they announced a new structure, where Citrix will be a business unit of Cloud Software Group. It will now have the flexibility and autonomy to focus on core strengths: providing an enterprise platform for app and desktop delivery.
So "What does this mean for their customers and potential customers?
Investing in Hybrid as the Destination
While hybrid solutions are not new to Citrix or its customers, the way Citrix enable them is evolving. For some enterprise organisations, hybrid deployments are not just a temporary solution on the path to the cloud, but the ultimate goal. Citrix have come to understand that many have invested significant resources in on-premises infrastructure, and a complete shift to the cloud may not be financially feasible or compliant with industry and regional regulations.
DaaS and cloud resources are still the most efficient tools in cases where organisations need to burst thousands of users at once, enable seasonal or contract workers, provide disaster recovery, or leverage AI technologies. Citrix knows there's also an opportunity to bring their experience, capabilities, and efficiencies from DaaS to on-prem solutions.
New Flexible Licensing: Citrix Universal Subscription
The first and most important step to enabling a hybrid deployments is licensing. Citrix new Universal subscription will offers organisations unparalleled flexibility in managing and deploying on-premises and cloud-hosted desktops. Whether an organisation has an existing Citrix Virtual Apps and Desktops deployment, Citrix DaaS, or both, Citrix Universal subscription will allow organisations manage and deploy them according to their needs. You can read more about Citrix's new universal licencing here.
A new look StoreFront
Citrix renewed focus on hybrid deployments, they're making significant investments to improve StoreFront's capabilities and UI.
From a capabilities perspective, Citrix objective is to develop a unified codebase for both StoreFront and Workspace to enable feature parity, enabling StoreFront to provide solutions like Secure Private Access for on-prem deployments or App Protection to StoreFront-Web. With these updates, Organisations will be able to provide users with seamless access to SaaS and web apps alongside virtual apps and desktops, all presented with a single login on StoreFront.
Citrix plan to augment and simplify the user interface across the board, so the experience is consistent and modern, whether it's via StoreFront, Citrix Workspace, on mobile, or even through Citrix Enterprise Browser. Admins will also have more control over the UI experience across different user groups – from power users to knowledge users to third-party employees.
Web Studio: Also Coming to On-Prem
This year, Citrix were excited to bring the latest innovations and capabilities of Web Studio to on-premises deployments. They have committed to providing the same modern experience and REST APIs of Web Studio to their on-prem customer.
Also, Web Studio can unlock the cost-optimising Autoscale feature for Citrix Virtual Apps and Desktops customers. Autoscale offers a broad range of capabilities, from basic scheduling and load-based scaling to dynamic timeouts during different times of the day, and even tag-based autoscaling for cloud bursts of specific workloads. Plus, users will be able to monitor and visualise capacity utilisation and cost savings achieved for the month using this feature.
Providing Faster Case Resolution
Citrix recently added a Diagnostic Insights and Baseline feature in Citrix Analytics for Performance to provide insights into common issues that affect the user experience, while providing meaningful feedback for root cause analysis and remediation. The Diagnostic tab of the Insights panel shows crucial information about failures that have occurred on the site, including blackhole machines, zombie sessions, overloaded machines, and communication errors. The Baseline tab of the Insights panel provides information on session failures, session responsiveness, and session logon duration. By drilling deeper into specific metrics with these insights, admins can help troubleshoot and resolve session issues quickly for users.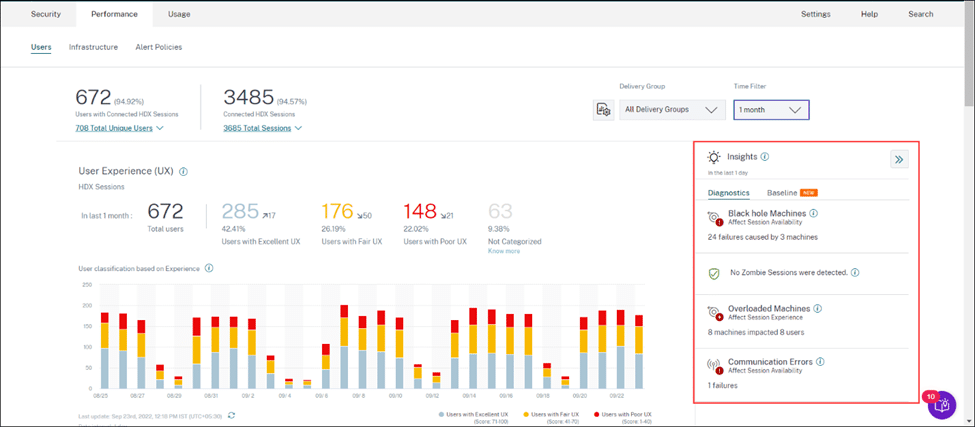 Partner Integrations
In most cases, Citrix is only one of hundreds of vendors relied on every day. It's crucial that they continue to build partner customisation options and integrations with their ecosystem partners to build a complete, customised solution for an organisation.
Customising Citrix Deployments
Citrix's new Workspace API unifies web and services APIs, enabling seamlessly incorporate Workspace with an organisations custom or third-party web portal. This unified API removes the complexities of redundant and duplicate calls for native Citrix Workspace apps, reducing maintenance overhead and support costs, as well as improving security by reducing attack surfaces.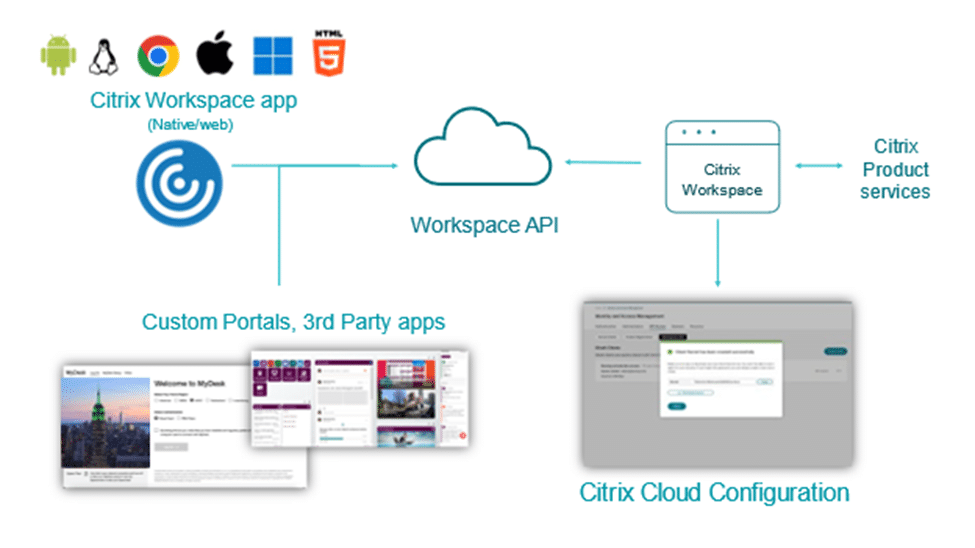 The service allows organisations to manage the entire app lifecycle, enabling admins to generate a custom build, update the customisations, update to a newer version, and also take care of app distribution.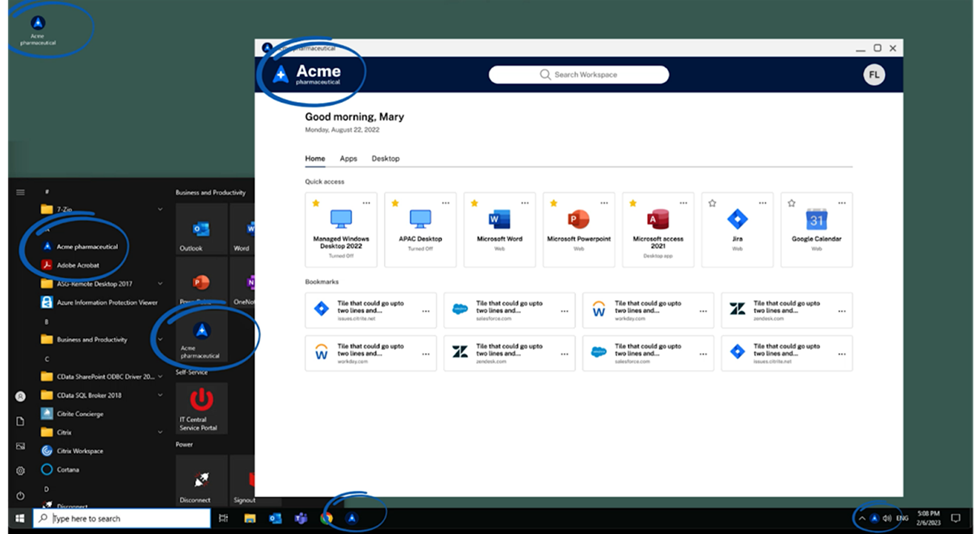 Scaling with Public Cloud Providers
Citrix released Citrix HDX Plus integration for Windows 365, bringing a high-definition experience, integration with third-party solutions, extended device and peripheral support, and additional security to Cloud PCs. This is a new entitlement for all of their DaaS editions, including Citrix DaaS Standard for Azure, so existing Citrix DaaS customers can actually start rolling out HDX-enhanced Cloud PC workloads today. Learn more about Citrix HDX Plus for Windows 365.

Expanding Connector Appliance integrations
Official support for Nutanix AHV is the latest addition to the options for running the Connector Appliance. When it comes to on-prem hypervisors, the Connector Appliance already supports all other major hypervisors. This includes Citrix Hypervisor (XenServer), Microsoft Hyper-V, and VMWare ESXi. Additionally, to further simplify deployment in the public cloud, Citrix have also recently made Connector Appliance offerings available in the Azure, AWS, and Google Cloud marketplaces.
Validating Endpoints for a Hassle-Free Rollout
Citrix have strengthened their partnership and integrations with thin client vendors like IGEL. In addition to validating the latest IGEL OS versions and devices, They've partnered together to provide day-one support for Citrix HDX Plus for Windows 365. Plus, Citrix are happy to share that Citrix Workspace app is also included in the new IGEL App Portal from day one, providing joint customers with new features and updates with unprecedented speed and frequency.
Securing Enterprises from the Browser
As mentioned in previous articles, Citrix have been working hard developing their Citrix Enterprise Browser, which is a key component to their Citrix Secure Private Access service. It provides users with a native browser to open web or SaaS apps securely from inside Citrix Workspace app itself, without needing a traditional VPN. End users enjoy the look, feel, and capabilities of a modern browser, while admins centrally manage granular policies for the browser itself with a new Global App Config service. Admins can push bookmarks to users, decide what browsing history is saved, enable or disable developer tools, manage passwords, manage extensions, and much more.
With its ability to function as an everyday work browser for an organisation, it's truly a game-changing security solution for enterprises.
To conclude
It's an exciting time for anyone involved with Citrix and using their products, from Ecosystem partners, Enterprise Partners, to customers and future Customers. They are committed to innovating with partners and their products, improving user experience, simplifying environments for system admins, and focusing on "destination hybrid" for organisations.
If you have any questions about how you might be affected or how you can take advantage of some of these new innovations, please feel free to email us asktheexpert@enterprise-solutions.ie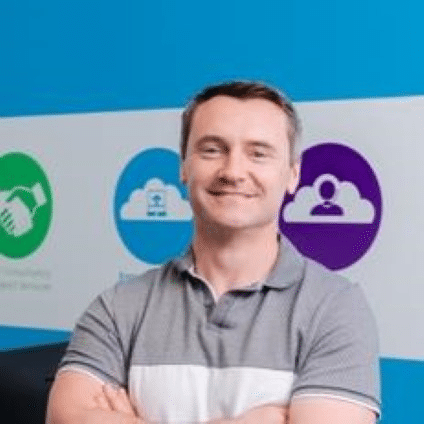 As Marketing Manager, Conor takes joy in bringing news, blogs and industry innovations to Enterprise Solutions readership.  He has a keen interest in all new innovative software and devices.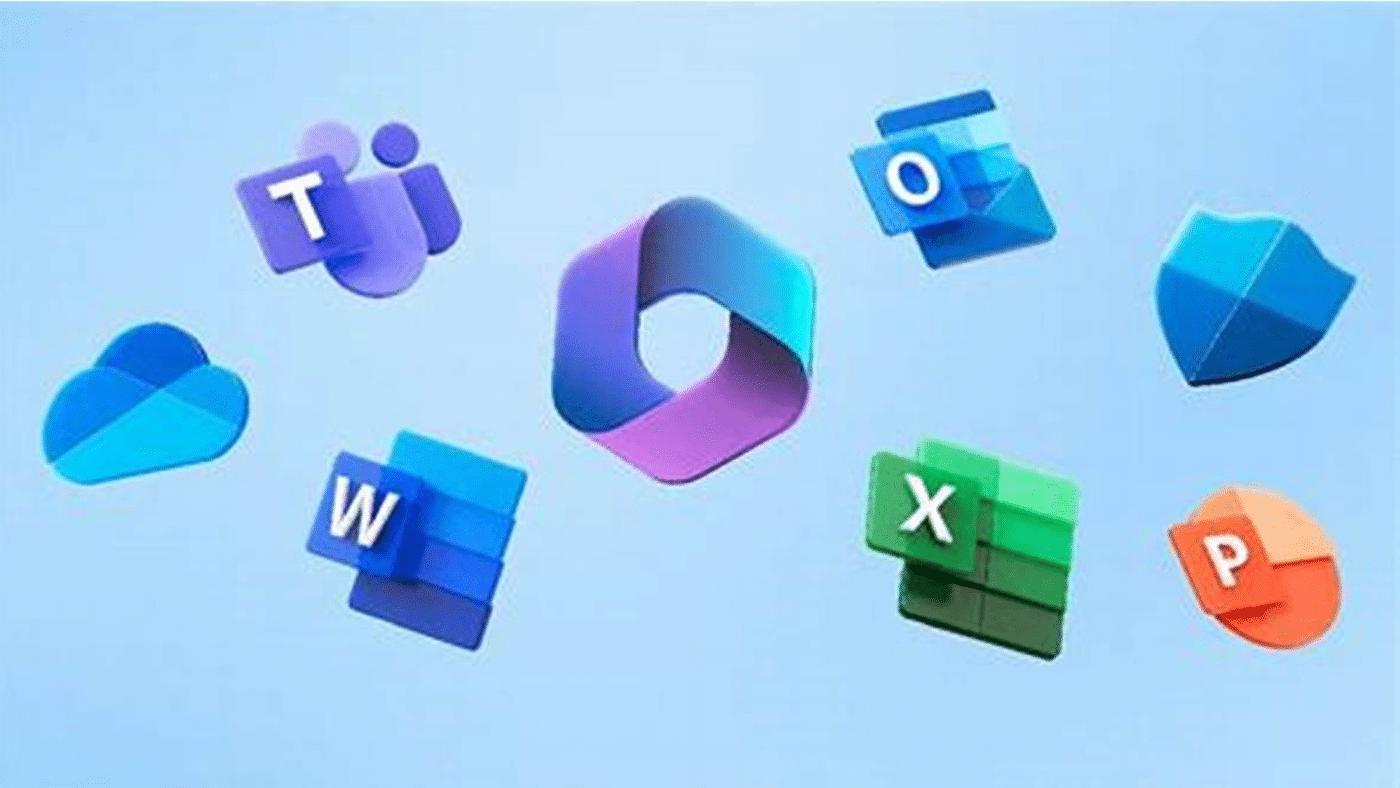 Microsoft 365 Copilot: AI-Power for Your Business
Microsoft 365 Copilot is a new AI-powered service that helps you create and manage content across your organisation. With Copilot, you can generate high-quality text, images, and videos for your documents, presentations, websites, and social media posts. Learn how Copilot can help you optimise your content, and revolutionise your content creation process today!